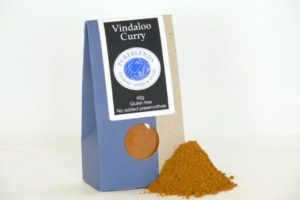 It's the hot Indian one – rich and full of flavour.
One of the best Indian flavours – the orignal Vindaloo was not know for excpetional heat, more for exceptional flavour.  We have taken our Vindaloo back to the roots of the spice blend and have produced a truly top quality blend with enough heat for any curry lover.
Containing mustard and chilli for heat plus cardamom turmeric & cinnamon for a delicate fragrance, this blend is perfect for all your curries and Indian dishes.  Look at our recipe section for the fabulous Goan Fish Curry and Beef Vindaloo recipes.
Contains no added salt  – just Pure Spice!
Unlike many spice blends found on supermarket shelves, in which fillers and additives have been included, our high regard for quality allows us to use only the finest grade ingredients. In our spices blends you will find:
No Preservatives
No Artificial colours or flavours
No anti-caking agents
No added MSG or other excitotoxins
No gluten, wheat or soy
GM free ingredients