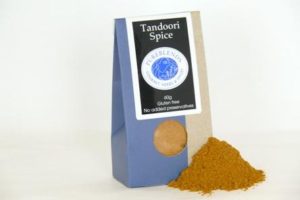 Tandoori Chicken lovers eat your heart out! Try this on fish and vegges too.
An exotic and traditional Indian blend, created with the warmth of cumin, ginger and chilli, with a fantastic bright colour using turmeric and paprika. Mix with water and a little oil to make a paste or marinade. Add to coconut milk for a rich Tandoori sauce.
Contains no added salt – just Pure Spice!
Unlike many spice blends found on supermarket shelves, in which fillers and additives have been included, our high regard for quality allows us to use only the finest grade ingredients. In our spices blends you will find:
No Preservatives
No Artificial colours or flavours
No anti-caking agents
No added MSG or other excitotoxins
No gluten, wheat or soy
GM free ingredients