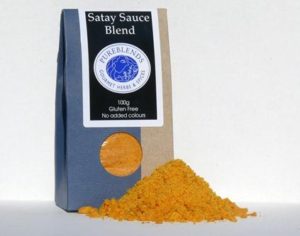 Satay lovers just have to try this!! Delicious peanut satay sauce – takes just 2 minutes to make!
A wonderful Satay Sauce Blend containing peanuts, coconut, sugar and spice.
Just put 100gms Satay Sauce Blend and 100ml of cold water in a saucepan (for a serving for two use 50gms with 50 ml).  Bring to the boil, stir boiling for 2 minute and you have a truly mouthwatering satay sauce for your meat kebabs, grilled fish, Thai salads, rice or noodle dishes.
Contains:  Raw peanuts, dried coconut milk (with sodium caseinate and maltodextrin), spices and sugar.
Unlike many spice blends found on supermarket shelves, in which fillers and additives have been included, our high regard for quality allows us to use only the finest grade ingredients. In our spices blends you will find:
No Preservatives
No Artificial colours or flavours
No anti-caking agents
No added MSG or other excitotoxins
No gluten, wheat or soy
GM free ingredients
No products found which match your selection.