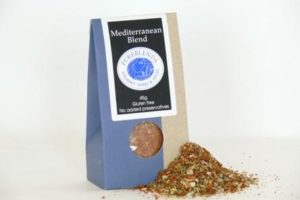 A true taste of the Mediterranean for your meals. Makes a delicous dip too!
For a tasty dip – just mix with cold water till nice and moist and then stir in a small splash of olive oiland dip with crackers – scrumptious!
Used as a cooking blend, Mediterranean Blend has everything you need for Tuscan style dishes.  It has a rich tomato base, with garlic, basil, cumin, fennel, chives, black pepper and sunflower seeds adding a deep, full, flavour to any dish or sauce.
Unlike many spice blends found on supermarket shelves, in which fillers and additives have been included, our high regard for quality allows us to use only the finest grade ingredients. In our spices blends you will find:
No Preservatives
No Artificial colours or flavours
No anti-caking agents
No added MSG or other excitotoxins
No gluten, wheat or soy
GM free ingredients
No products found which match your selection.